This content reflects the views of the individual blogger and is not intended to advise you about your health. Always seek advice from your doctor or other qualified healthcare professionals.
Psoriasis can be an isolating condition that knocks your confidence, especially doing everyday things such as shopping.
As a shopaholic, I know this all too well. With bad facial psoriasis, I was at times so scared to leave the house in fear of judgement. I would isolate myself and order online as I wouldn't have to be seen or interact with anyone. This was no good for many reasons, aside from the fact I should not be hiding away, I would end up with the wrong size, things that didn't suit me or buying things because they were in fashion at the time and not right for me.
I also ended up with mismatched coloured makeup as I was too frightened to approach a beauty counter to get help with colour matching or finding products that could actually be better for my skin. I was just blindly following the internet resulting in negatives all round!
Below are some things I realised about shopping during a flare that will hopefully help you out.
Beauty Counters
Approaching beauty counters can be scary at the best of times, especially if you're not sure what you are looking for. All the products and technical, fancy words can seem pretty daunting and walking up to a counter not feeling particularly confident in your skin or how you look can be intimidating.
But remember, the assistant behind the counter is there to help and guide you to pick the right products for your skin - not to judge you, your skin or your skins needs. I am so lucky because I actually found that at my favourite brand make-up counter, the girl that serves me has facial psoriasis too! She not only has knowledge of their products but also of psoriasis so she can help me to pick products that she has tried herself. Although I appreciate I am lucky to have found this lady and not everyone has someone like her to go to, many of these beauty professionals have a basic level of training and knowledge of skin conditions such as acne, psoriasis and rosacea. Why not ask when you approach the counters if there is anyone available or in store who may have some knowledge or experience with your condition? As daunting as it can be to talk about your skin publicly, holding back information or not telling them could lead them to suggesting the wrong makeup products for you and could cause even more flare ups and issues – no-one wants that.
If you are uncomfortable speaking in public about your condition, book an appointment. Many counters now allow appointments to be booked in advance and will have a quiet section for clients meaning you will not have to worry about people coming up and interrupting or overhearing.
Another top tip is to try before you buy. If you are not sure what you want to buy specifically and don't want to spend money on new products without trying the product first then ask for a sample. Most brands will happily give you a sample (or two) to try before you commit to the buying the full size product. This will give you a chance to see how the product feels and see how your skin gets on with it - you can't tell these things just from using a little bit on the back of your hand.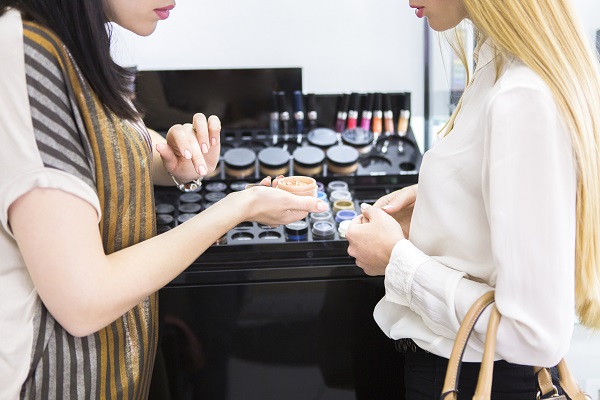 Clothes Shopping
Clothes shopping isn't always the most fun at the best of times. If you are having a flare or have psoriasis in a visible area, shopping may make you feel vulnerable especially if you are trying on clothes in public changing rooms. A way around this is to buy clothes and not try them on in store. If it makes you feel more comfortable, buy the items and try them on in the comfort of your own home. (Though only do this if you are fairly sure you will keep the item – sustainability and saving the planet now!).
If you are clothes shopping, make sure you are buying clothes that you feel comfortable in – not just clothes that are in fashion or on trend right now. By doing this you are more likely to buy clothes that you will wear and will make you feel comfortable whilst flaring or not – whether that's covering up or letting it all out.
Hopefully these tips will help make your next shopping experience that little bit more comfortable and remember among it all....be yourself!
UK/IE MAT-28762 Date of preparation: September 2019
Article developed in partnership with LEO Pharma.