This content reflects the views of the individual blogger and is not intended to advise you about your health. Always seek advice from your doctor or other qualified healthcare professionals.
Self-care is a hugely talked about topic at the moment. From Instagram posts to online articles, everyone is talking about the art and of self-care in some way and why it is important.
For some self-care is reading a book, putting on a facemask and having some quiet time. For others, it's more about having a daily routine that works for them and helps them keep their zen during their busy day. Self-care is something that is individual to each and every person. A bit like psoriasis.
As we are living lives full of hustle and bustle, it can be incredibly difficult to feel healthy and well rested. The busy lives we lead can result in us becoming stressed and burned out. Add a condition like psoriasis or psoriatic arthritis on top of the normal stresses of life and you may find yourself feeling even worse. As someone who has both of these conditions, from my experience not making looking after myself a priority is one of the worst things I can do for myself and my mental health.

Self-care is a practice that requires you proactively making the decision and time to do it. It will not happen unless you intentionally dedicate energy to it. But the result can be worth the effort.
For me, I find that is so important to ensure that I practice self-care daily – flare or no flare. With a bit of daily self-care, I personally experience more joy, find it easier to rest, and have more energy than I do when I neglect myself.
Self-care is what you decide it is
As I mentioned above everyone has a different idea of what self-care is. For some it is washing their hair or having a bath. For others, it's a full out spa day with a massage. So don't worry if your version of self-care looks completely different to someone else's, find what works for you. Looking after yourself should always be a priority to you – it always is for me. Self-care is a nice way to relax and zone out from the world and your psoriasis flare.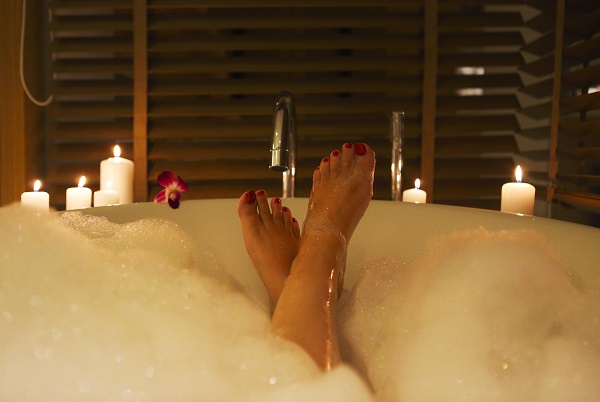 Take it easy
The easiest way to not stress your body out any more than it already may be is to take things easy. One thing I have learnt with psoriasis and my body, is that sometimes saying no is the right thing to do. Taking on too many tasks or making too many plans has always been my downfall, so I am getting better at saying no or moving things if I have too many things on that week.
It's not selfish to ensure that you are not taking on too many tasks to please other people – remember you need to put yourself first and look after you! True friends will understand and support this.
Holistic Plans
For me, self-care is never an afterthought. It is something I include in my holistic plan. As I have said many times in this article, self-care is what you make it and doesn't need to be anything extravagant – though of course it can if you want it to be.

I have spoken about holistic plans and their importance many, many times before. With my holistic plan, I make sure that I am eating right, exercising and meditating.
I tend to do exercises which work for my psoriatic arthritis like walking and yoga. I find them not to be too strenuous but they still allow me to keep active. Keeping active has incredible mental benefits as well as physical benefits. Make sure you do what works for you and speak to your doctor before commencing a new exercise regime.
By eating right and adding more fruits and vegetables to my diet, plus drinking more water I feel better on a daily basis. This is a simple and easy change I have made in my life and it has personally given me so many benefits.
I like to meditate just before I go to bed. I use an app to help guide my meditation. I spend just 10 to 15 minutes before bed doing this. By doing so, it helps me ground myself and keep in touch with my body and how it is feeling at the end of the day. Another benefit I have found is that I sleep better because of meditation. I can't say this will work for everyone or that it is a benefit you will experience but all I can say is that it has helped me.
Hopefully in this article are some tips you can take away to look after yourself. As I have said a lot in the article, self-care is individual and can be whatever you want it to be, just make time for you!
UK/IE MAT-29513 Date of preparation: November 2019
Article developed in partnership with LEO Pharma.