This content reflects the views of the individual blogger and is not intended to advise you about your health. Always seek advice from your doctor or other qualified healthcare professionals.
When you have a psoriasis flare you can tend to give up things in your routine. When my facial psoriasis used to get bad, I would give up getting my eyebrows done immediately. I was so scared to put product or tweeze them myself, never mind having someone else wax or thread them.
Over the years my confidence has grown though. I got to know my beauty therapist and had confidence that she knew what she was doing and how to handle my psoriasis. So, when a facial flare arises, I feel confident to book my appointment as normal.
Below I share with you some hints and tips to ensure you feel more confident getting your eyebrows done when having a facial psoriasis flare.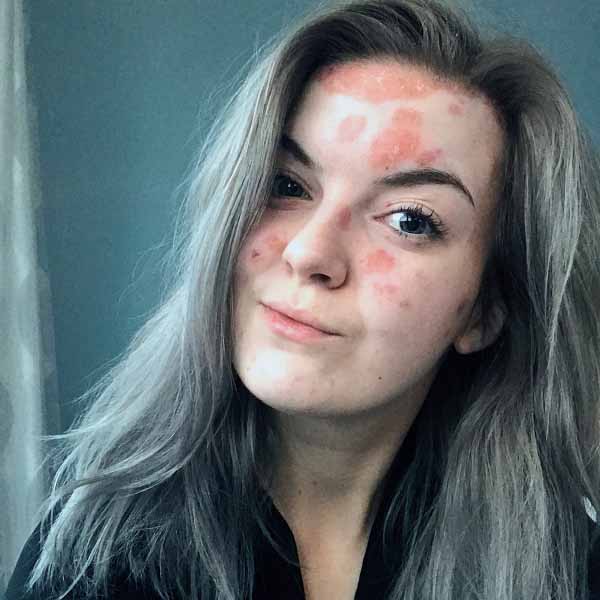 Find what's right for you
The first thing I would recommend anyone who is looking to get their eyebrows done, regardless of psoriasis, is to do their research into methods of treatments. There are many different types of treatments and ways to shape your brows now. Knowing which one will cause the least irritation or redness will allow you to make a better judgement as to what treatment will work best for you and your skin.
It is not just wax that can cause irritation to your facial psoriasis when getting your eyebrows done. I would also recommend researching the type of products your chosen beauty salon uses. Different people react to different products so make sure you are going into an environment that is right for you and your skin.
For me some of the soothing products that salons use before and after the treatment can also cause irritation. So this is something to be aware of when offered these products.
The key is that every persons skin is different so don't just copy what your friends get, do your research and find which treatments and products are right for you, it can be a case of trial and error but you will get there.
It isn't just about waxing…
If you aren't comfortable going to get your eyebrows waxed when having a psoriasis flare there are so many ways you can look after your brows from home!
To get the darker brows that would usually come with a salon tint, I say fake it! A few quick sweeps of the right product and viola! Your brows look like they have just been out the salon.
With lots of products now available on the high street, for all price ranges, filling in your brows is no longer a chore. From pencils to powders, gels to mascara like wands, there are so many options which will allow you to find the one you are most comfortable using and is right for you.
Plucking your brows at home is another way to ease irritation and keep up with eyebrow maintenance. Plucking means your are only removing stray hairs and not putting any product on your brows or near your psoriasis. If you don't feel comfortable doing it yourself, ask someone! I always ask my mum to pluck my eyebrows to ensure I don't miss any!
Hopefully these tips will allow you to continue your eyebrow maintenance whilst having a psoriasis flare! Remember, as I have said already, every persons skin and psoriasis is different, so make sure that you are doing what is right for your and your psoriasis. Also don't be afraid to speak to your beauty therapist about your concerns and requirements, they are there to help!
UK/IE MAT-22586 Date of preparation: January 2019
Article developed in partnership with LEO Pharma.