This content reflects the views of the individual blogger and is not intended to advise you about your health. Always seek advice from your doctor or other qualified healthcare professionals.
Becoming a student is full of many different experiences; moving out, attending lectures and meeting new people to name just a few. However, I found balancing this and managing my psoriasis challenging at times.
New friends
Making new friends is an extremely exciting part of moving to university. While it can be nerve wracking at first, the people I met in fresher's week I now live with and I have truly made friends for life. However, it can be fairly anxiety provoking meeting new people who may notice psoriasis on your skin but not quite know what it is. Apart from my own family members, I have never met anyone else with the condition.
My friends from home have known about my psoriasis for years, but starting university meant interacting with people who didn't know about my condition. I've experienced a range of assumptions about my skin: some people assumed it was eczema, whilst others were genuinely concerned for my health. I experienced one comment which particularly knocked my confidence, where someone assumed it was contagious. I have now realised this just came from a lack of education and it wasn't a reflection of how I looked (but it's still not nice to hear!).
I have friends who praise me for wearing whatever I want, even if my psoriasis was on show. You can choose how you wish to dress. Personally, I wore what I wanted even if this meant my psoriasis was exposed. However, I knew I had to be prepared for people to be inquisitive. If people ask about it, just explain what it is simply if you feel comfortable to do so.
Due to the current situation with COVID-19 and social distancing measures, starting university now may involve getting to know people via video calls or in small groups, rather than at nightclubs and parties. This might give you a chance to have an easier conversation about your psoriasis. You could even tell people via message and you might want to send them links to information about psoriasis to help them understand.
Social life
Being a student often comes with a packed schedule, especially when you're balancing lectures and a social life. For a lot of students, drinking is a big aspect of socialising but unfortunately this can really take a toll on your psoriasis. Although a direct link is not known, there is research to suggest that alcohol could trigger inflammation leading to a psoriasis flare up. Regardless, an amalgamation of a lack of sleep, drinking and a sometimes-unhealthy diet caught up on me, and I suffered an extreme flare up in my first term of university.
I find that my skin is a physical representation of the state of my body and mind. So, whilst I wouldn't encourage anyone not to socialise, I would advise that you check in on yourself. Be mindful of how your skin is looking, and maybe take a break and clear your schedule to let your body catch up. My psoriasis can take a few days to flare up after a change in my routine, so you also might not notice the impact straight away.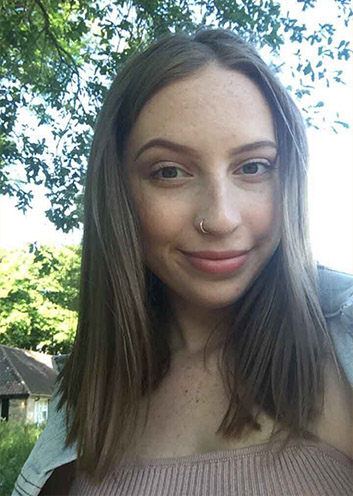 Stress management and self-care
As I just mentioned, taking time to notice your skin is important. Self-care has become somewhat of a phenomenon on social media; from face masks to avocado toast, there are many ways we can treat ourselves. However, I have found that true self care is deeper rooted in looking after your body and mind.
Stress and psoriasis are inextricably linked and unfortunately university can have its challenges . Having had the worst flare up in my life in first year, I started to realise going into second year that I really needed to start looking after myself. Taking time for yourself is so important. This isn't news to anyone, but exercise and a healthy diet can really help not only your body but also your mind, and your skin will thank you for it too. It's important to notice when you are particularly stressed, and actively try to implement activities which help you. Whether this is meditation, painting or going to the gym, it's important to understand how interlinked your skin is to your mind.
I also found that making time in the evenings to apply my creams and moisturisers helped me immensely. As simple as this may sound, it can be easy to come home from a long day and neglect your psoriasis, but start treating this process like brushing your teeth, it quickly becomes habitual. In this time you give yourself to inspect your skin, you can notice whether its calming down or flaring up and you can easily gauge how your lifestyle may be having an impact.
Organising prescriptions
One thing I never considered before coming to university is the fact that I would have to sort out getting prescriptions for creams from both my home address and at university. Although it may seem like a simple task, it's something which I found particularly hard work at times. When you first move to university, you will likely need to register with a new GP surgery. I have found it difficult to get my prescriptions on repeat, as I had to re-register when I went home in the term breaks, and then register again back at university. Talk to your new doctor and let them know which treatment you like and what has worked best for you. It's important to have open discussion with your doctor, even if its one you may not have built a relationship with yet.
I often found with my busy schedule that i neglected to keep up to date with prescriptions, meaning I would often run out of the cream I use. I've learnt from my mistakes and realised it is so important to factor in your psoriasis as part of your routine, after all, it is a long term condition. It can be easy to neglect it and forget to look after yourself, but your psoriasis is just as important as other aspects of your life.
I hope that this blog has given you some insight as to what it's like being a university student with psoriasis. Everyone will have a different university experience, but I believe that there are certain tips that everyone can benefit from. It is especially important to implement self-care and to prioritise yourself by truly taking care of your skin.
Good luck and have fun with your university journey!
Meaghan
MAT-37757 September 2020
Article developed in partnership with LEO Pharma.